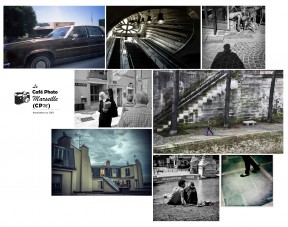 Notre association Café Photo Marseille (CPM) participe à la grande biennale photographique organisée par la ville d'Aubagne intitulée « Photologies » en partenariat avec la FPF qui se tiendra du 23 avril au 7 mai sur différents lieux sur Aubagne, et à laquelle des photographes émergents et confirmés participent.
A l'invitation de C. Ramade et Marcel Boi, et fidèles à l'esprit CPM, nous proposons lors de cette Biennale une exposition collective de 60 photographies de 60 de nos adhérents, chacun présentant une image sur le thème commun :
l'Homme dans la ville.
En clôture de cette Biennale et du congrès FPF, un Café Photo HORS LES MURS est organisé le samedi 7 mai à 9h30 au service jeunesse à Aubagne. Il est ouvert à tous, venez partager un café et parler photo !
Nous proposons à nos adhérents et sympathisants, si nous sommes assez nombreux, de prolonger ce café photo hors les murs par un repas pris en commun sur Aubagne (avec vin compris aux alentours de 30€/pers.). Si intéressé(e), envoyez-nous votre accord de principe pour ce repas sur le mail du secrétariat du CPM : cafephotomarseille@gmail.com AVANT LE 22 AVRIL 2016
Et si pas assez de monde et bien, chacun pique-niquera de son côté 🙂
Ce sera ainsi l'occasion de poursuivre l'après-midi avec la visite des autres lieux d'exposition.
Exposition visible tous les jours (excepté le 1er mai).
Jours et horaires d'ouverture sont dans le flyer posté sur cet évènement.
Si vous êtes présent au congrès de la Fédération Photographique de France qui se tient du 5 au 7 mai à Aubagne, passez nous voir !
ENTREZ LIBRE (et vous sortirez tout aussi libre d'ailleurs…)
Error: map could not be loaded - a map with the ID does not exist. Please contact the site owner.